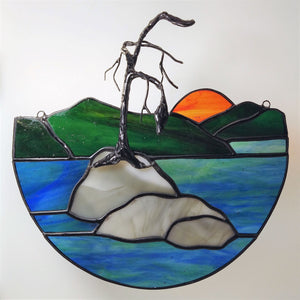 Prism Patch
WINDSWEPT PINE
Regular price
$125.00
$0.00
Unit price
per
The prevailing winds that form the asymmetric windswept white pines in northern Ontario mesmerize me and possibly you as well. Ontario's provincial tree has an arresting beauty that has secured it as a recognizable artistic emblem of Canada. "Windswept Pine" is my tribute to the thread bare white pines, past their prime but no less of a guardian to the territory they watch over.
Any individual pine has witnessed perhaps you or I and perhaps the explorers before us who waded through snow and trekked between the rugged harsh terrain, tall grass and sumac in search of riches and passages to distant lands. These sculpted lofty guardians have seen immense history and have captured the respect and hope of all through their resilience in the imaginations of those who have the fortune to view them.
Each "Windswept Pine" is one of a kind.  While the glass composition is similar, each hand sculpted metal pine tree is unique.
*The popular Louis Tiffany construction method of stained glass is made with connective solder that contains lead. Always display out of the reach of children and wash hands after handling it.
---