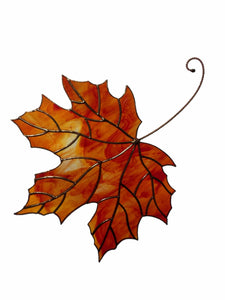 Prism Patch
OH CANADA
Regular price
$125.00
$0.00
Unit price
per
Prism Patch's Canadian handmade maple leaf stained glass suncatcher  "Oh Canada" is extra large in size!  This original design was taken straight from mother nature!  In 2007 I awoke to find several large green flat objects on my lawn.  Upon closer inspection I was amazed to realize they were massive maple leaves, one measuring  29.21 cm in width which had fallen from the trees lining the back of our property! I collected that leaf and took a picture of it on a fabric cutting mat to prove its existence.  To replicate nature as close as possible, I made a crayon rubbing of it, keeping the pattern in its original size and outer shape but adapted the veining so I could cut the design from one connected piece of glass, eliminating any texture or colour flow interruptions.  I named it "OH CANADA" as it was a perfect reflection to me of how big, beautiful and awe inspiring Canada is!
This timeless inspiring design is popular right across Canada and has travelled to many countries of the world. It is an excellent gift for any occasion and cherished by Canadians abroad.
MATERIALS: Stained glass, copper foil & wire, solder, patina, wax,
SIZE: Approx. 29.21cm x 45.75cm
This awe inspiring leaf is also rich in symbolism. For many the Canadian flag, depicting the famous red maple leaf has come to symbolize unity, tolerance and peace. As a tree independent of country the maple symbolizes balance, promise, longevity, generosity and intelligence. This is directly linked to the trees ability to live for hundreds of years, adapt to different soil types and climates; produce oxygen; store carbon; produce sap as a food source and pollen in early spring for honeybees; timber for furniture/shelter...
What does the maple leaf mean to you and who in your life would love to receive a stained glass maple leaf?
*The popular Louis Tiffany construction method of stained glass is made with connective solder that contains lead. Always display out of the reach of children and wash hands after handling it.
---